Save 25%
Sale price

$299.00
Regular price

$399.00
AUTHENTIC KATANA
HAND-FORGED BLADES
Our katanas are handmade in the respect of Japanese traditions. The blade is forged in Tamahagan steel, and sharpened by the best craftsmen with the traditional know-how and techniques. From the handle (tsuka 柄), to the scabbard (saya 鞘), each katana is unique.



Type of katana
The Japanese sword is probably the most popular type. Carried by ancient and feudal Japanese samurai, it is characterized by its single-edged curved blade with a guard and long grip.

The Japanese wakizashi is another popular choice. It is smaller than the katana, with many traditional samurai warriors carrying both. When the two swords are carried together, the combination is called a daishō, which translates to "large small."
Sharp or blunt
It is important to know the use of this one, indeed for the practice of martial arts in club, it is mandatory to have a non-sharp sword (Iaito).
The Iaito has a balance point closer to the guard, and it is also lighter (between 600 and 900gr). This allows you to work with the sword longer.
There are several steels available:
Laito Aluminium blade (about 600gr), Iaito Carbon steel blade (about 850gr), Iaito Stainless steel blade (about 900gr)
Sharp katanas are made for cutting Tatami-Omote or green bamboo. It is forbidden to practice with a sharp katana in a club. You can also join a Battodo or Tameshigiri club.
Steel quality
There are different types of steel to forge a katana blade. The most famous for its density, hardness and strength is tamahagan steel. However, it is possible to make katanas out of many materials, depending on the use you will have for them. Here are the 3 different grades of carbon in sharp swords.
The 1045 (0.45% carbon) Blade for initiation to cutting on soft objects. The 1060 (0,60% carbon) Blade for training on traditional supports. The 1095 (0,95% of carbon) Blade for an intensive use on tatami-Omote or Green Bamboo.
Length of the blade
Take the length of the blade into account while selecting your katana. Japanese blacksmiths began using a longer blade for the katana after the Edo era. These katanas were also heavier and had a greater curvature than the swords made before this period.
Traditional Japanese swords have three different divisions of blade length:
1 shaku or less (Tanto)
1-2 shaku (Wakizashi or Kodachi)
2 shaku or more (Katana or Tachi)
The bohi
The Bo-hi also called Hi, is a groove cut located under the spin. It lightens the blade between 150g and 200g.

On the other hand, the presence of a groove (Bo-hi) makes the sword slightly weaker. It is a bit of a sacrifice, because the bo-hi reduces the weight of the sword, but at the cost of a small amount of strength.
KATANAS (DAITO)
These long swords, measure more than 2 shaku (the unit of measurement for length in Japan), approximately 60,60 cm. They were carried by Japanese warriors. Katanas are often described as the main weapon in manga and games, but in reality they were used as auxiliary weapons when the bow and arrow were exhausted or the spear broke.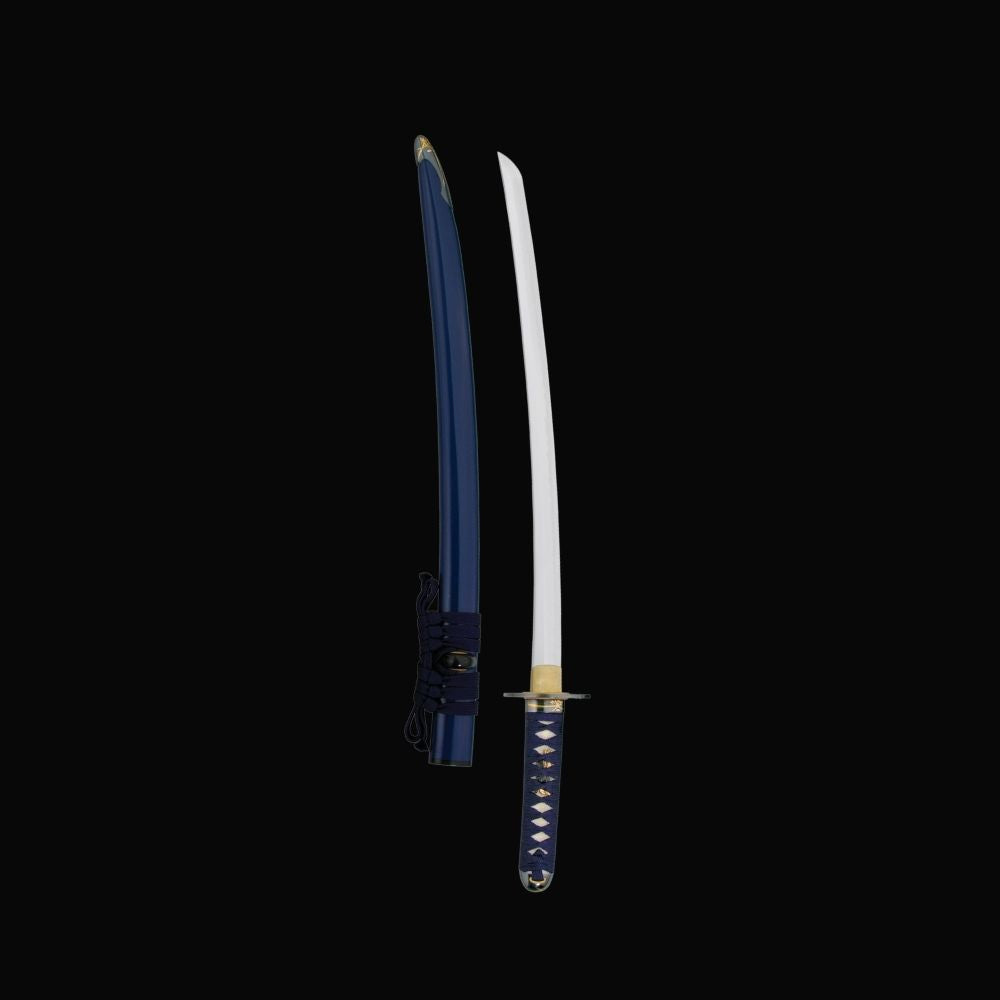 WAKIZASHI
Despite not being as well-known as the iconic conventional katana, this weapon is equally as significant. The wakizashi, also known as shoto, is a short sword. This traditional Japanese sword is between 30 and 60 centimeters long. When their katana was rendered useless, they would employ this backup weapon.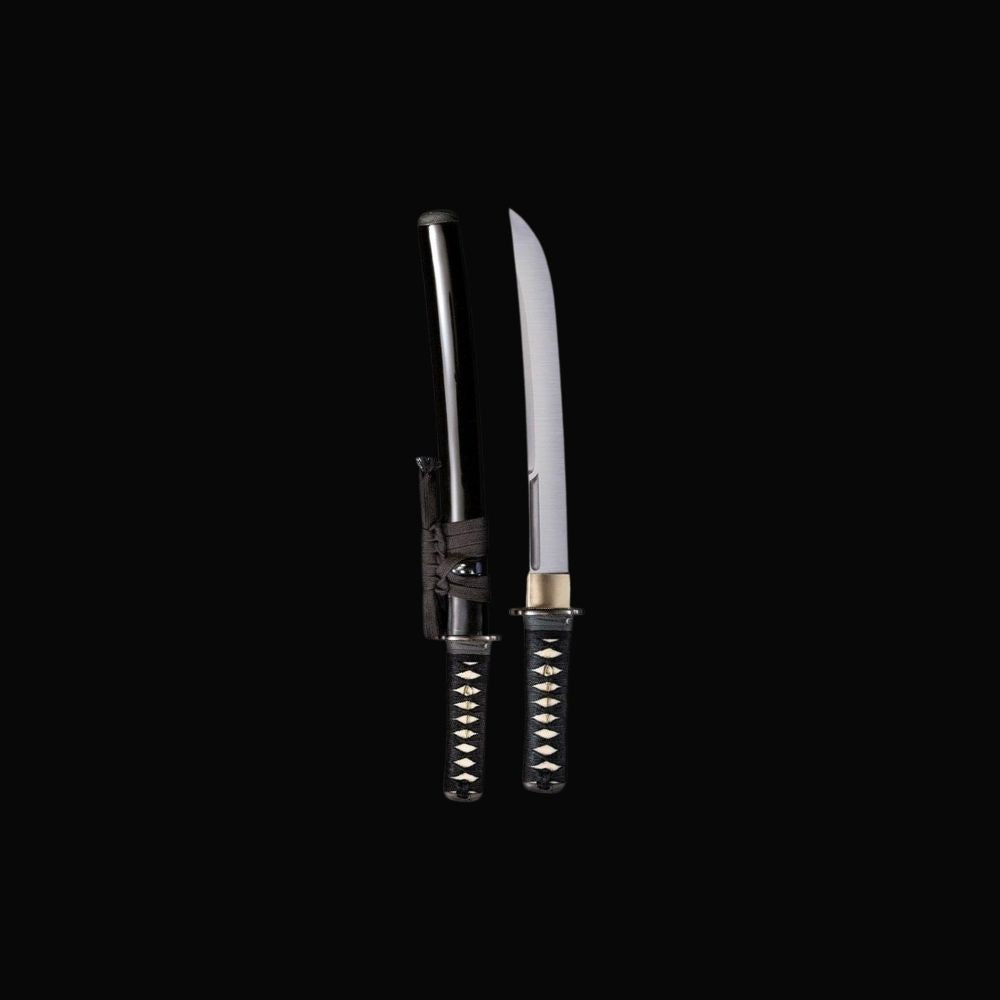 TANTO
"Tan" means "short", and "To" means "sword" in Japanese. A tanto is therefore a general term for swords with a short blade length of 1 shaku (30.3 cm) or less. There are also double-edged items such as swords and armor buckles with extremely thick layers. In the Edo period, one left one's sword at the entrance of the host's house, while the tanto was kept with one. It was the only way to defend oneself against any attack or trap.
The term dagger was given relatively recently. Since daggers can be used by weak women and children, they were mainly used as self-defense weapons. The most famous self-defense dagger that survives to this day is the imperial treasure dagger called "Hirano Toshiro".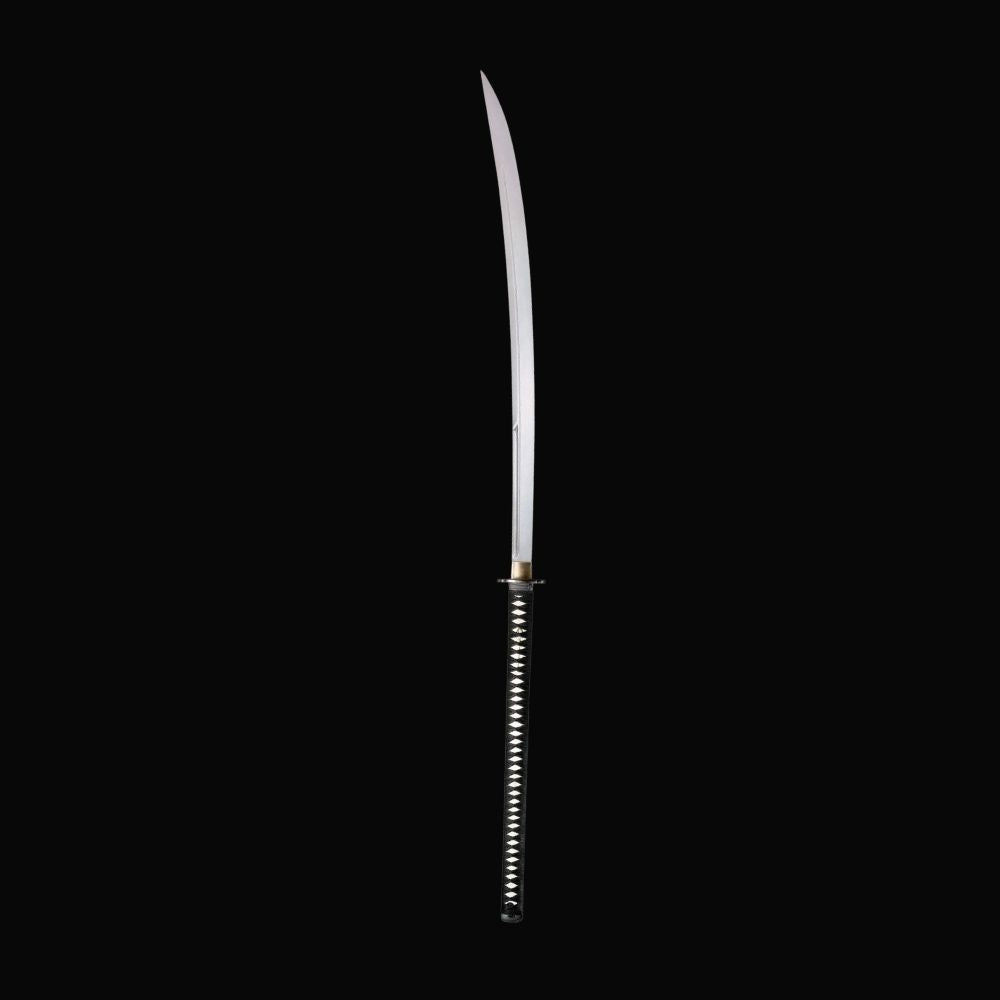 Nodachi
The nodachi (野太刀) is a Japanese longsword characterized by its extremely long blade. It was used primarily by the samurai class of feudal Japan and was known for its strength and cutting ability.

The nodachi was often carried slung across the back, and as such it was not easily drawn in combat. As a result, it was less effective in close combat, but its strength and range made it a fearsome weapon against several foes.
The nodachi was more frequently carried as a ceremonial sword or used for training than it was for actual combat. The nodachi was reported to be so heavy and awkward that only the most powerful samurai could use it efficiently.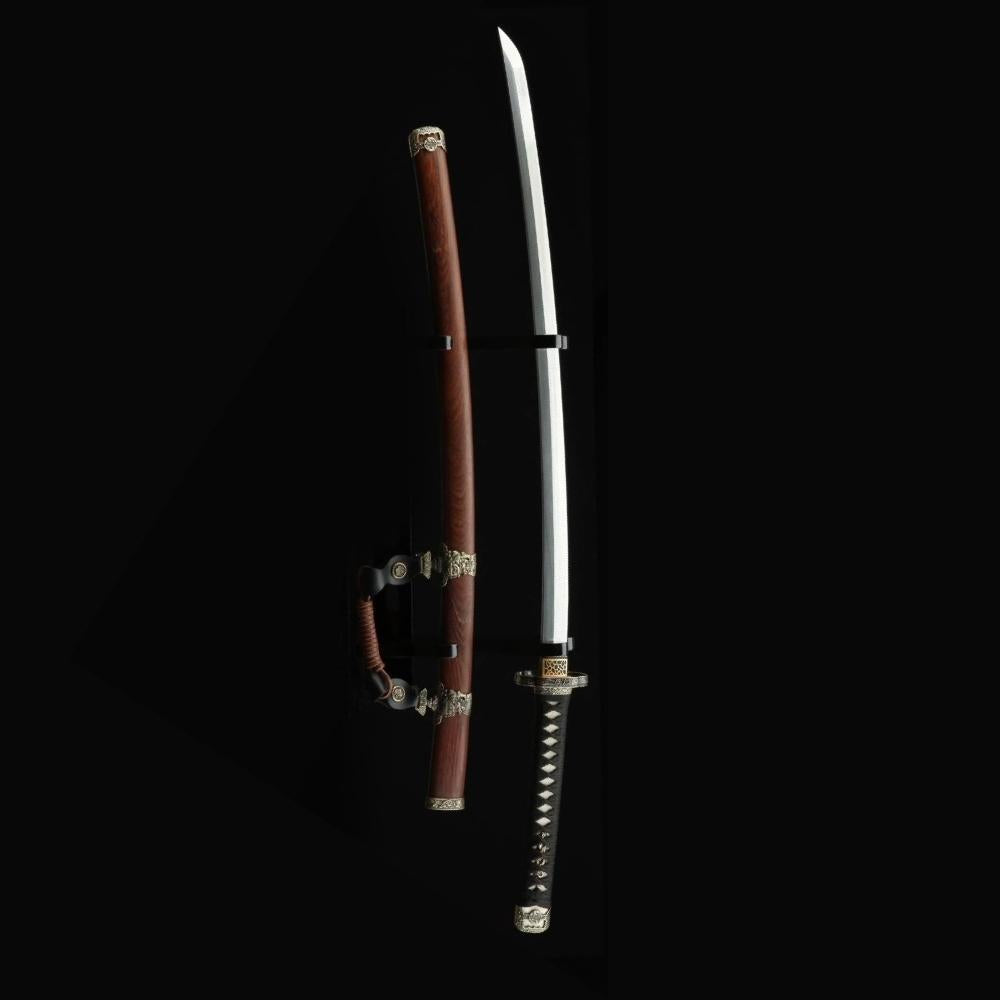 Tachi
Tachi (太刀) were typically longer than katana, with a blade length of over 60 cm (2 ft). Tachi blades also tended to be more curved than katana blades, making them better suited for slashing rather than thrusting. Tachi swords were often used in cavalry battles, as the longer reach and extra weight made them ideal for hacking down enemy soldiers from horseback. Tachi swords are considered to be some of the most beautiful and elegant examples of Japanese sword craftsmanship.
Tachi were in use during the Kofun period. Tachi were also worn by the famous samurai Minamoto no Yoshitsune during the late Heian period and early Kamakura period.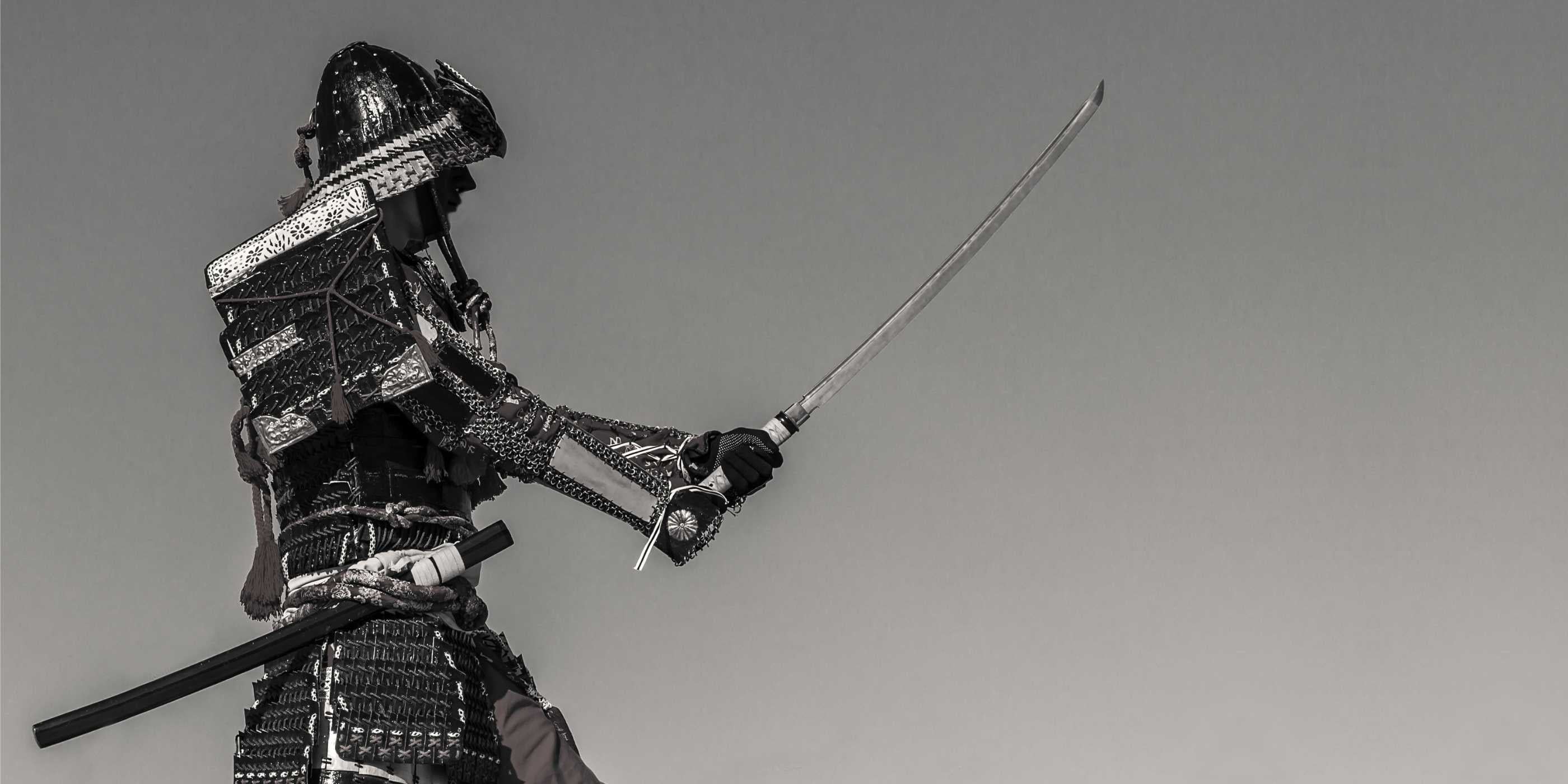 Battle ready swords
Whether you are a fan of Japan, bladed weapons or the Edo period, our katanas forged by our craftsmen are ideal for martial artists and collectors alike. Unique decorative katanas to display and contemplate. A katana is also an ideal gift for all Samurai and ninja enthusiasts.
A katana (刀) is a traditional Japanese sword with a curved blade. It is typically worn by Samurai warriors and was used in feudal Japan for close combat.
Yes, a katana is a type of sword considerate as a work of art by the majority of swordmen. This iconic sword is originated in Japan. It is mainly characterized by a single-edged, curved blade that is traditionally used with a two-handed grip. There are other variations of one-handed katana.

The katana has marked the times, becoming an essential figure of the Japanese Samurai equipment, symbol of their code of honor and status.
From the age of 18, it is absolutely lawful to possess a katana in the US. Please be aware that the legality of having a katana varies according to the jurisdiction. Check our article about katana legality. For further information, kindly consult the laws of your nation.
How much does a katana cost

Normally, a practical, hand-forged katana would cost $500 to $2,000 or more and be perfect for cutting drills or martial arts practice. However, katanas intended for decoration or show rather than for use in martial arts may be less costly.

A mass-produced, low-priced katana may cost between $50 and $300, yet a hand-forged, inferior model created by an expert craftsperson may cost thousands of dollars.

The price of the katana depends on different variants, including:

- The materials used
- The level of craftsmanship
- The blade's intended function.

Based on the skill of the blacksmith and the quality of the materials used, sword prices vary greatly depending on quality and workmanship, ranging from very cheap to very expensive.

It's crucial to remember that a katana's price frequently corresponds to its quality.

At katana.store, we offer katana at affordable prices that will be ideal for decoration. We also offer unique and exceptional pieces made with Japanese know-how, ideal for true collectors or sword players.
If you are wondering where to buy a real Japanese katana, then you're at the rigth place! Katana.store is the specialist in katanas and weapons of martial practices. Such as : bokken, bo, jo, katana, Japanese sword, ïaïto, wakizashi, Chinese sword, tonfa, sai, shuriken, kunai, etc... as well as accessories and equipment for martial practice. We offer a wide range of quality katanas hand forged and functional. These swords are made in Asia according to the Japanese tradition.
You may quickly browse the many katanas on our website and add the one you choose to your shopping cart. We will make your katana and dispatch it to your location as soon as your order is placed. It's that simple!
View all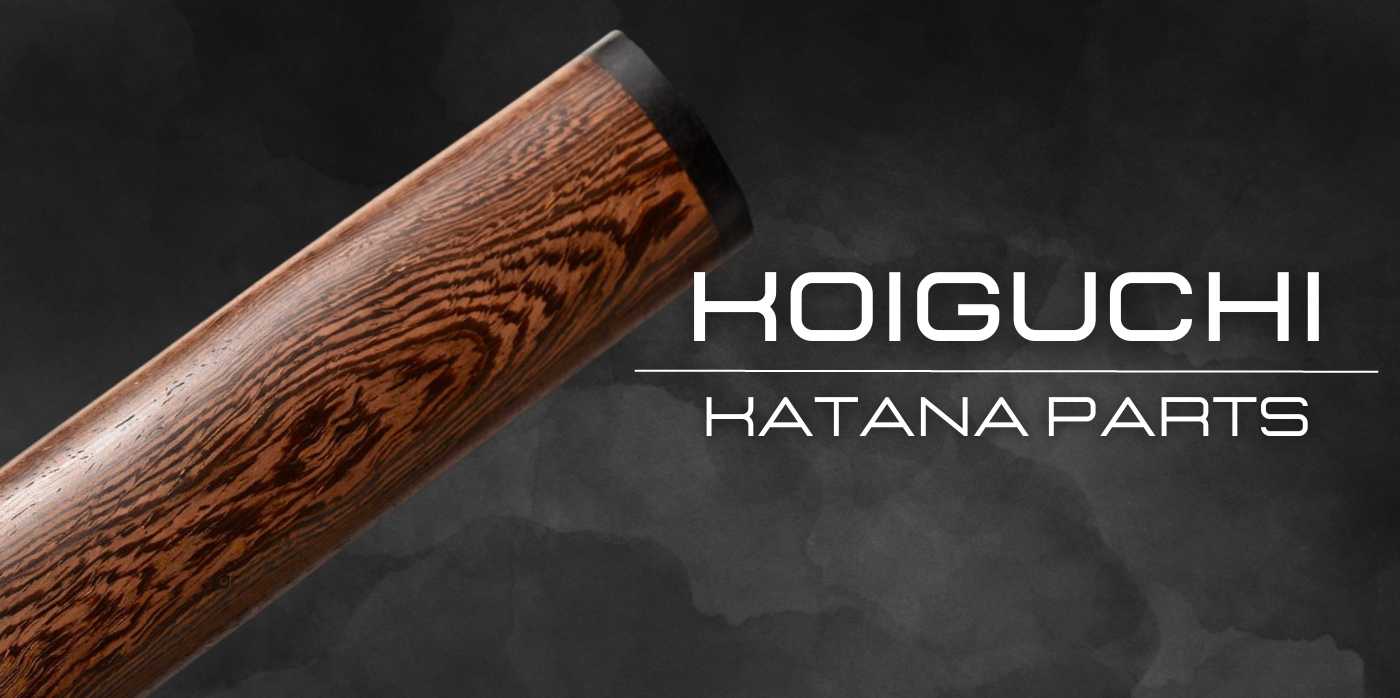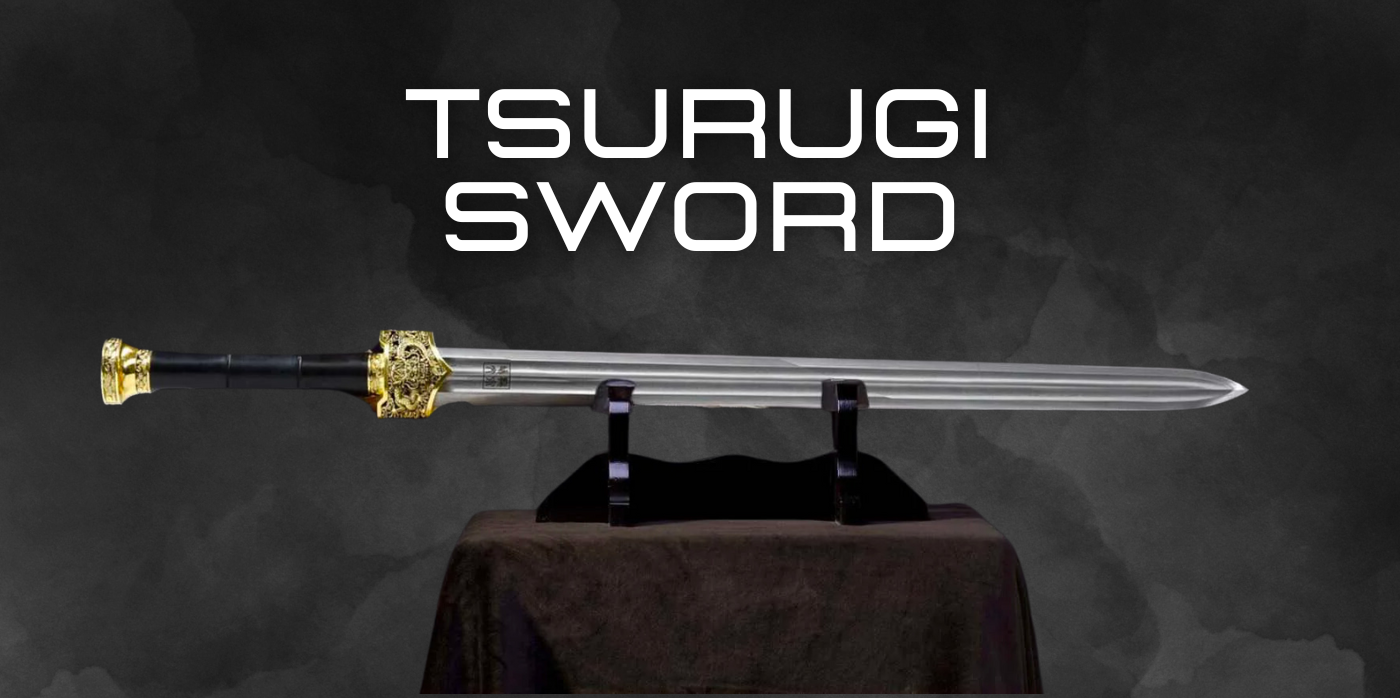 What is a Tsurugi sword? Let's dive into its rich history and unique characteristics, one discovers a weapon that embodies the spirit and valor of ancient warriors.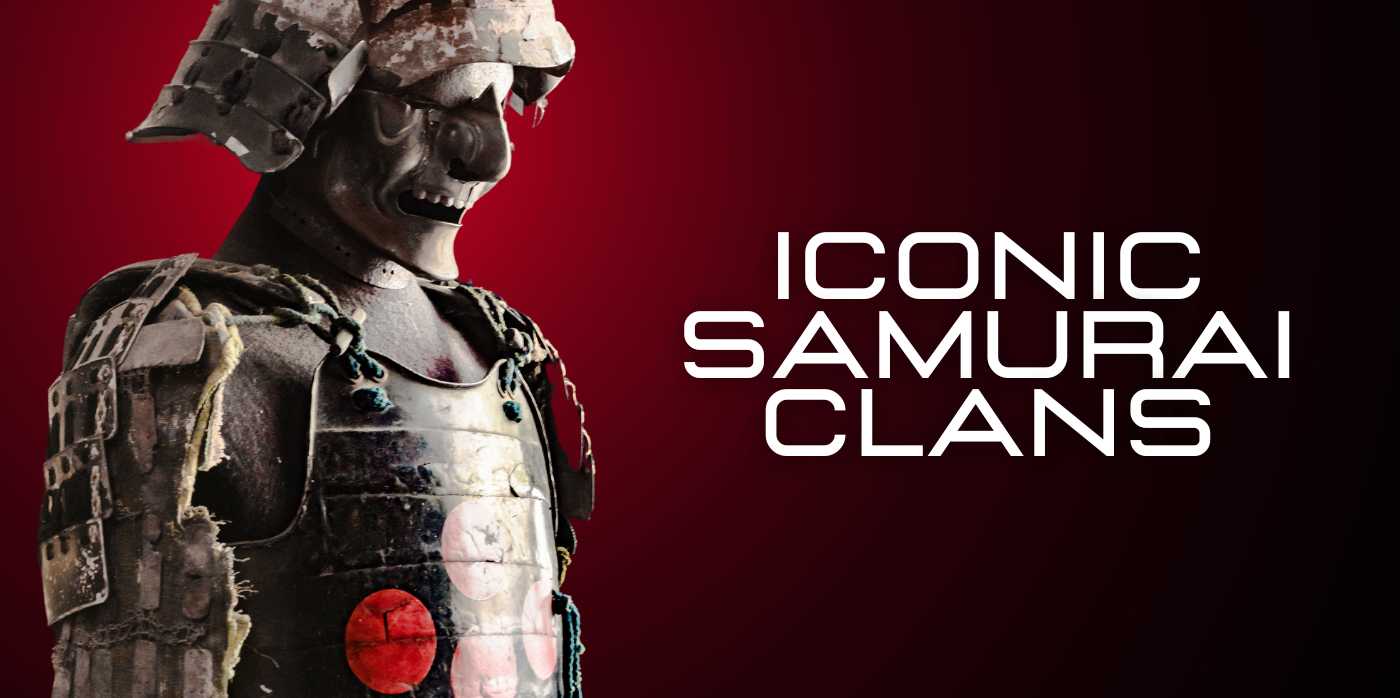 Each of the Samurai clans had their unique contributions to Japanese history, whether it be in military exploits, or culture. Let's dive into the Samurai Clans.
What is a katana

The katana stands as a quintessential Japanese longsword, easily recognizable by its elegantly curved, single-edged blade, coupled with either a circular or squared guard. The katana's extended grip is crafted to accommodate a two-handed hold, offering unparalleled control. Originally wielded by the samurai, who were Japan's feudal military aristocracy, the katana has evolved into a symbol of the finesse and skill associated with Japanese martial arts.

Craftsmanship lies at the core of the katana's renowned cutting prowess. Produced from a specialized steel known as "Tamahagane," the katana owes its superior quality to a unique smelting process. Its creation is a highly complex and ceremonial undertaking that encompasses forging, shaping, hammering, and tempering the blade. Each of these meticulous steps contributes to the blade's unmatched sharpness, resilience, and longevity. This labor-intensive process can span weeks or even months to reach completion.

When it comes to combat utility, the katana is engineered for rapid and accurate cutting motions. The curvature of the blade serves to enhance its effectiveness in slicing through targets. The innovative design melds a keen edge with a level of adaptability, providing the user with an implement that is as lethal as it is functional.

Far from being just a mere weapon, the katana stands as a testament to values of honor and discipline that are deeply ingrained in the fabric of Japanese tradition. It carries a historical and spiritual weight that goes beyond its utilitarian function. In modern times, the katana still finds its place in martial arts disciplines such as Kendo, Iaido, and Kenjutsu, and remains a coveted piece for collectors and enthusiasts alike.

Katana Etymology

The term "katana" itself is steeped in history. Originating from the Japanese words "kata" meaning "side" and "na" meaning "name," the katana gets its name from how it's traditionally worn: blade facing up and tucked into a belt on one's side. Understanding the katana etymology reveals much about the weapon's intended use and the philosophy behind it.

Katana Meaning

In a broader sense, the katana meaning goes beyond its mere physical attributes to symbolize the values of discipline, honor, and precision. Designed primarily for slashing but capable of thrusting, the katana embodies the principles of versatility and efficiency, principles highly esteemed by the samurai who wielded them. The katana is more than just a weapon; it's a representation of the samurai spirit.

Physical Characteristics of the katana

A katana typically features a single-edged blade with a moderate curve, ranging from 60 to 80 cm (23.62" to 31.50") in length. It is traditionally made using a specialized Japanese steel called Tamahagane. The unique crafting process, which includes folding and differential heat treatment, lends the blade both hardness and flexibility. While its original purpose was for combat, today the katana finds a place in various aspects of modern culture, from martial arts practices like Kendo and Iaido to decorative display and even popular media.

Katana Sword history

Jōkotō period

In the timeline of Japanese sword history, Jōkotō occupies the initial period, ending around 900 AD. These swords are considered the foundation upon which the later, more refined katanas were built. It was during this era that the essential philosophies regarding balance, sharpness, and sword design started taking form. Understanding Jōkotō provides invaluable insight into the katana's evolution, allowing for a fuller appreciation of its craftsmanship and cultural relevance.

While some may dismiss Jōkotō era as mere archaic predecessors to the modern katana, these swords hold their own historical and cultural value. Often seen as an art form in their own right, they represent the craftsmanship and ingenuity of the era. Collectors and historians alike view Jōkotō as priceless artifacts, offering significant details about ancient Japanese culture and combat tactics.

Kotō period

The golden age of Kotō is the period between 900–1596 AD that represents a significant milestone in the realm of Japanese swords. The Kotō era is particularly known for its advancements in forging techniques. Swordsmiths during this time perfected processes that enhanced the blade's sharpness, durability, and overall quality. Understanding the Kotō period helps to appreciate the meticulous craftsmanship and artistry that go into creating the classic katana form.

The Kotō swords are often the first image conjured when one thinks of a katana. Featuring a curvature optimized for quick draw and swift cuts, these swords became a defining feature of samurai warriors. With unique tempering methods and signature artistic engravings, Kotō swords encapsulate what many consider to be the quintessential katana.

The Kotō era's contributions have left a lasting impact on Japanese swordsmanship, influencing even modern practices. Swords from this period are highly sought after, considered the pinnacle of craftsmanship by collectors, historians, and martial artists.

Shintō period

Step into the fascinating era of Shintō, a period that redefined the katana from 1596 to 1780. Known as the renaissance of katana craftsmanship, the Shintō era is renowned for the harmonious blend of aesthetics and functional refinement. If you have ever wondered about the pinnacle of katana craftsmanship, look no further than the Shintō era. Swordsmiths of this period focused on refinements that elevated the blade's performance and aesthetic appeal. From nuanced tempering techniques to the intricacies of the Hamon line, the craftsmanship of Shintō swords represents an evolution in katana design and quality.

While maintaining all the functional characteristics that make a katana formidable, the Shintō period added an unprecedented level of beauty to these swords. Artistic inlays, elegant engravings, and attention to decorative detail make Shintō swords as much a work of art as a weapon. This period is often considered the renaissance of katanas, as it bridged sublime aesthetics with deadly efficiency. The advancements of the Shintō era continue to influence modern katana crafting, creating a lasting legacy that makes this period a focal point for collectors and enthusiasts alike.

Shinshintō period

A pivotal epoch from 1781 to 1876 that engineered katanas to be more effective and easier to manufacture. Amidst the backdrop of political turbulence, the Shinshintō era managed to advance the art of katana-making significantly. The Shinshintō era is noted for its focus on practicality. Swordsmiths of this time aimed to make blades that were not just works of art but also highly functional weapons. Advancements in the art of sword-making resulted in katanas that were not only more durable but also easier to handle and more lethal in battle. This period gave rise to some of the most practical and readily manufactured katanas ever created.

One cannot discuss the Shinshintō period without acknowledging the political upheaval that shaped its history. Amidst a tumultuous backdrop, the demand for highly effective weapons grew, spurring swordsmiths to engineer katanas that could be produced swiftly without compromising quality. This was an era where the katana was not just a symbol but a vital tool for survival.

Even today, the Shinshintō era's contributions to the realm of katana-making are evident. Modern swordsmiths and enthusiasts alike revere the designs and techniques developed during this period.

Gendaitō period

The Gendaitō era takes us from 1876 to the present day. This period marks the zenith of katana evolution, perfectly balancing traditional artistry with the precision of modern technology. The Gendaitō era distinguishes itself by harmonizing age-old techniques with modern technology. Swordsmiths now have access to cutting-edge tools and materials, allowing them to produce katanas of unparalleled quality. CNC machines, high-quality steel, and precision forging techniques are now part of the katana-crafting process, enhancing both durability and artistry.

In the modern world, the Gendaitō katana serves multiple purposes beyond combat. These contemporary swords are highly coveted by collectors, martial arts practitioners, and even film-makers for their exquisite craftsmanship. Their utilitarian design makes them relevant in modern martial arts as well as historical reenactments.

As we move further into the 21st century, the Gendaitō era continues to shape how we perceive and use katanas. Its influence is likely to remain pivotal, setting the benchmark for any future developments in katana crafting.

Katana types

Katana types can vary greatly, each with unique characteristics that make them distinct. There are three primary types of katana blades: Shinogi-Zukuri, Shobu-Zukuri, and Kissaki-Moroha-Zukuri.

Shinogi-Zukuri

The Shinogi-Zukuri is the most common and perhaps the most recognized type of katana blade. It features a distinctive ridge line and is generally characterized by its balanced proportions, making it a versatile weapon suitable for a variety of combat situations. As the epitome of katana types, Shinogi-Zukuri has earned its place as a staple in the samurai's arsenal.

Shobu-Zukuri

Shobu-Zukuri katanas bring a sleek and more streamlined design to the table. These blades lack the yokote, or the defined point where the blade shifts into the tip. The absence of this transition gives the Shobu-Zukuri a flowing, uninterrupted curve, making it particularly effective for slashing attacks.

Kissaki-Moroha-Zukuri

Unique among katana types, the Kissaki-Moroha-Zukuri features a double-edged blade with a pronounced point, offering an increased capacity for thrusting as well as cutting. This design is less common and is often considered a specialized weapon for particular combat scenarios.

What are katanas made of

Traditional Craftsmanship: Tamahagane Steel

The epitome of traditional katana craftsmanship lies in the use of Tamahagane steel. This is a specialized Japanese steel resulting from a laborious smelting process that yields layered steels with varying carbon concentrations. The method helps remove impurities and levels out the carbon content, contributing to the blade's strength and resilience. The age of the steel plays a role, too. Older steel, with higher oxygen concentrations, tends to result in a stronger blade due to its ease of being stretched and purified during hammering.

Modern Adaptations: 1060 High Carbon Steel

While traditionalists may swear by Tamahagane, modern katanas often use 1060 high carbon steel. This type of steel offers a good balance between durability and the ability to maintain a sharp edge, making it popular among martial artists and collectors alike. It's a more cost-effective option but still provides a quality blade capable of demanding tasks.

Other Variants of Steel

Apart from Tamahagane and 1060 high carbon steel, there are other types like 5160 and T10 steel, 1090 high carbon steel and high manganese steel, each offering its unique set of attributes. The 5160 is a low-chromium steel that excels in toughness, ideal for heavy-duty applications. On the other hand, T10 steel is known for its high carbon content, making it extremely hard but somewhat less flexible than other types.

How are katanas made

Both as a formidable weapon and an intricate piece of art, the katana captivates not just enthusiasts but also historians. What really distinguishes this iconic sword, however, is the unparalleled craftsmanship that goes into its creation. When discussing how are katanas made, it's essential to delve into the unique steps that transform raw material into a blade worthy of a samurai.

Choosing the Right Steel

As seen previously, before the forging begins, one of the first steps in understanding how are katanas made is selecting the right kind of steel. Whether it's traditional Tamahagane steel or 1060 high carbon steel, the choice will significantly influence the sword's quality, durability, and performance.

Smelting and Layering

The production of a katana is nothing short of an art form. Traditional methods involve smelting iron and carbon to create a unique, layered steel. This technique enhances both the blade's flexibility and strength. Through constant folding and hammering, the swordsmith works out any inconsistencies, achieving a harmonious balance within the metal.

Shaping and Tempering: Crafting the Blade

Once the steel block or "billet" is prepared, the next step is to shape it into a blade. This involves several techniques like hammering, filing, and differential tempering. The swordsmith uses specialized tools and years of expertise to craft a blade that is both sharp and resilient, keeping in mind the katana's intended use and desired characteristics.

Polishing and Assembly

The last stage in how are katanas made is the meticulous process of polishing and assembly. The blade is ground and polished to a mirror-like finish, enhancing its natural beauty and performance characteristics. Then, the hilt, guard, and scabbard are assembled, usually incorporating intricate designs and materials such as ray skin and silk cord wraps for the handle.

Famous Japanese Sword Swordsmiths

The katana's renown isn't limited to the blade alone; the master swordsmiths who forge these exceptional weapons are equally esteemed. Known for their scrupulous attention to detail, unmatched artisanship, and the deep historical significance imbued in every sword, these famous Japanese katana swordsmiths have become legends in their own right.

The Legacy of Masamune and Muramasa

Two names often surface when discussing famous Japanese katana swordsmiths: Masamune and Muramasa. In the realm of Japanese katana swordsmiths, the name Masamune stands as a paragon of virtue and technical mastery. Known for crafting blades of unparalleled beauty and functionality, Masamune's swords are often cited as the epitome of Japanese swordsmithing. His work has influenced countless generations and set a standard that is admired even in contemporary sword-making.

On the flip side, Muramasa holds a far more ominous reputation. While also an extraordinary swordsmith, his katanas are often wrapped in myths and legends, most notably for their supposed "curse." According to folklore, Muramasa's blades hunger for blood and can even possess their wielders. Yet, their cutting capability is indisputably excellent, earning them a place in the annals of Japanese katana swordsmith history.

The tales of Masamune and Muramasa serve as intriguing studies of contrast. Where Masamune's blades are associated with righteousness and spiritual balance, Muramasa's are linked to recklessness and dark energies. Their stories have been deeply ingrained into Japanese culture, symbolizing the dual nature of weaponry, tools of both justice and destruction.

Modern Japanese swords Swordsmith

While traditional masters like Masamune have their immortal place in history, modern masters are carving out their own legacy. These individuals are not only skilled in the art of sword making but are also savvy entrepreneurs who understand how to position themselves in a global market.

Katana Parts: Anatomy of a Katana

The katana isn't a monolithic entity but a sophisticated assembly of specialized parts, each with its own distinct function.

The Blade and its Accessories

Habaki: A wedge-shaped metal collar used to secure the blade within the scabbard (saya).

Seppa: Metal washers used to secure the tsuba.

The Handle (Tsuka)

Tsuka-ito: The wrapping on the handle.

Mekugi: A bamboo peg used to secure the blade to the handle.

Fuchi: The metal sleeve that strengthens the handle's opening.

Kashira: The pommel or end cap of the handle.

Menuki: Ornaments found under the tsuka-ito for grip and aesthetics.

Samegawa (Same-hada): The ray skin used under the tsuka-ito for added grip.

Scabbard (Saya) and its Components

Saya: The wooden scabbard housing the blade.

Koiguchi: The mouth of the saya.

Kurigata: The knob on the saya for attaching the sageo.

Kojiri: The end cap of the saya.

Other Accessories and Ornamental Parts

Tsuba: The handguard.

Kozuka: A small utility knife that fits into the saya.

Kōgai: An ornamental skewer fitted into the saya.

Mekugi-ana: The holes through which the mekugi are inserted.

Shitodome: Small metal fittings used to reinforce the sageo.

Kaeshizuno: A small hook-like fitting used with the sageo for fastening.

Katana Cleaning and Storage

Storing your katana correctly is vital for its longevity. Traditional storage techniques include keeping the katana in a saya (scabbard) and placing it horizontally with the edge facing upwards. This prevents unnecessary dulling of the blade and reduces the risk of accidental injury.

One cannot overlook the importance of regular cleaning in katana maintenance. Use specialized cleaning kits that include powder balls, rice paper, and sword oil to remove residue and protect the blade. Oil application helps prevent rust, maintaining the sword's quality for extended periods. You can also check our guide to clean a katana.

Katana store

Katana.store is the specialist in katanas and weapons of martial practices. Such as : bokken, bo, jo, katana, Japanese sword, ïaïto, wakizashi, Chinese sword, tonfa, sai, shuriken, kunai, etc... as well as accessories and equipment for martial practice. We offer a wide range of quality katanas hand forged and functional. These swords are made in Asia according to the Japanese tradition.

Nothing compares to the recognizable katana in terms of traditional Japanese swords. This strong and graceful weapon has long been admired for its precision, balance, and beauty. And Katana Store is the only place to go if you want to buy the best katanas available.

At Katana Store, we specialize in hand-forged katanas made from the best materials and following ancient techniques. Our swords are ideal for martial artists, reenactors, and collectors alike since they are both gorgeous to look at and totally practical.

Our dedication to quality separates us from other sword sellers. Each blade is carefully crafted by passionate swordsmiths with years of experience in forging blades of all kinds, especially katanas. All our katana swords are tested to be sure it is of the highest quality.

In addition to swords, we also provide numerous sword accessories including stands, maintenance kits, and carrying cases. Traditional Japanese swords we carry include the wakizashi and tanto.

Because we recognize that purchasing a katana may be a big commitment, we provide a broad variety of pricing to accommodate all spending levels. You may select a sword to suit your demands and budget whether you're a novice or an experienced collector.

In addition to selling swords, Katana Store is also a community of people who love them. And we're here to assist you in finding the ideal weapon. In order to experience the legacy and workmanship of the old samurai, come to Katana Store whether you're wanting to add to your katana collection or purchase your first katana.

Real katana

Katanas have been used as both weapons and artistic creations for millennia, and they are a representation of Japanese history and culture. Genuine katanas are hand-forged by knowledgeable artisans utilizing time-honored methods and premium materials. As a leading online merchant, we take pride in providing genuine, hand-forged katanas that are created with the same processes that have been handed down through several generations of Japanese swordsmiths. Our katanas are hand-forged by skilled artisans utilizing traditional methods from premium steel. Each katana is expertly constructed to match our strict requirements for quality, sturdiness, and authenticity.

Our swords are not mass produced. Instead, every one is a special piece of art that honors Japanese history and culture. We acknowledge that among the causes contributing to the sword's widespread devotion are its historical and cultural significance, as well as its beauty and workmanship. We offer a variety of real swords designed for both. We offer a sword that suits your needs, whether you're searching for a true katana to show in your house or a good knife to practice cutting with. We work hard to give our clients the greatest hand-forged swords that are true to Japanese sword forging history, starting with Damascus blades. We take pleasure in providing genuine, top-notch katanas that are an accurate representation of Japanese workmanship and culture.